Job Description
As an Affiliate Product Specialist, you are responsible in assisting the marketing teams using the inhouse affiliate platform tool in preparing reports, organizing media as well as data checks.
You will learn to know and use the affiliate product like the back of your hand and in turn you will work closely with affiliate managers and other marketing teams by providing support and handling questions and concerns while also resolving specific issues pertaining to Affiliate Marketing, Event Tracking and Content.
You will collaborate between teams and propose new ideas as well as requested features to improve the overall product and be part of the product journey.
Responsibilities
Answering all affiliate product-related queries (like parameters, dynamic variables and tracking) in a timely and efficient manner and providing solutions to the marketing teams
Triage, diagnose and provide support to reporting queries while also optimising the generated reports on a more granular level in order to help Affiliate Managers perform ongoing analysis
Liaise with several other internal teams and assist in preparing complex reports for the payment run
Assist internal teams with pixel implementation
Create and prioritize features requested by internal teams to help introduce new functionality and improve the product
Document bi-weekly product releases and provide product updates to the Affiliate Team
Perform data checks and cross compare the data between tools
Schedule training sessions to ensure all teams learn to use the product efficiently
Identify potential growth and UX/UI improvements within the affiliate platform
Requirements
Knowledge/skills /experience:
High Proficiency in Microsoft Excel
Sound understanding of the iGaming industry and Affiliate Marketing
Excellent time management skills
Experience in managing multiple, competing priorities and duties
Strong analytical skills
A keen understanding of Affiliate Platforms
Person specification:
Fluent in English
Excellent written communication skills
Excellent organisational skills with attention to detail
Exceptional analytical skills
Self-starter, with a 'can do' attitude
Optimist and loves a challenge
Benefits
ComeOn Group in short
Founded in 2008, ComeOn Group is a leading global player in the rapidly growing iGaming market. Having launched its first online brand in 2010, ComeOn Group is running a wide range of exciting brands across multiple markets. Operating more than 20 brands on its proprietary platform providing a secure, innovative and entertainment-led player experience across casino and sports betting. ComeOn Group is an international employer within the iGaming industry and has over 500 talented employees across 7 main locations.
So what can you expect from ComeOn as a place of work?
At ComeOn, we have adapted a Hybrid Work model which means that we offer our employees an option to pick their workstation for the day. Want to work from the office a few days a week and some days from home? That's totally fine with us! ComeOn is known for their inviting and vibrant offices that offer creative areas for collaboration and desk set-ups designed for a Hybrid Work model. When you visit one of our offices you will always be welcomed by a friendly face that will take good care of you. It's our curiosity that drives our innovative business forward and we work hard in a #runtogether spirit and we always make sure to top it up by #havingfun! You will not regret picking ComeOn as your next place of work.
Want to know more about us just visit our website www.comeon-group.com or any of our social media channels to take a deep dive into our culture!
ComeOn Group winner of 2021 IGA Awards: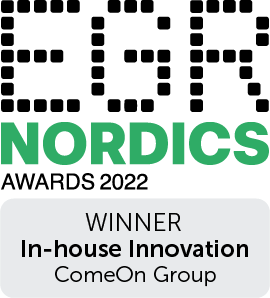 The ComeOn Moment
That moment when right before the roulette ball stops, or during when the penalty shoots out in the world cup final, when time slows down, when every heartbeat can be felt, when you think, whisper or scream ComeOn, ComeOn, ComeOn!
You don't have to be a gambler to work at ComeOn Group, but you have to understand the power of having something at stake, with the potential to win or lose. We have all experienced this, if not with money on the table, maybe it was our hearts!
#WeareComeOn
I'm interested, what do I do next?
Waste no time and complete your application expressing your interest and why you want to work for us today, we like individuality so let your personality come through!
Applications might take a few weeks to review so please stay cool. We shall get back to you 😉
Are you curious how we roll here at ComeOn Group!? Check it out here!
If you want to learn how we act in compliance with the GDPR, you can access our Recruitment Privacy Notice here.