Job Description
We are looking for a Head of Product Design to join our amazing team. You'll have the space to envision, create, and integrate your design philosophy across our products. You'll communicate your vision throughout ComeOn, inspiring others to promote and uphold the same modern standards that you're used to working with as you will help lead ComeOn to being market leading.
As Head of Product Design, you will be responsible for designing, hiring and developing the Product Design team as well as defining our design strategy. You'll work closely with stakeholders, designers, developers and product owners and will be the driving force behind our design vision and strategy.
You'll be responsible for the design team's growth, development and maintaining its high performance. This includes organisational design, hiring, developing and coordinating.
You'll be responsible for the vision and overall success of the Product Design team.

UI and UX design, as part of the product development process, as well as Brand Design, where the team will work closely with the Brand Strategy team.

You will be responsible for the overall design quality and output of the design team.
You'll be working and communicating with multiple stakeholders. Therefore, the ability to convince, influence, inspire and enable management decisions is crucial.
What will you get up to day to day?
An experienced view on what good design means, you are detail-oriented and you can clearly articulate to a variety of stakeholders how it should look like.
You have a technical and social understanding of the bridge between design and development, and how to create an internal culture that outputs seamless and beautiful user experiences.
Build a culture around design excellence together with the product teams.
Encourage and motivate your team to go beyond current trends and deliver market leading designs.
Give constructive direction, feedback, and guidance to the designers.
Create and implement a unified design system across all our products.
Deliver a high level of creativity in line with business goals.
Create and build strong relationships with stakeholders to enable our products short and long term visions.
Requirements
You have excellent leadership skills with 5+ years experience as a people manager, including managing managers and a proven track record of hiring and mentoring employees in-person and remotely.
You have the ability to build, mentor and motivate teams.
You have great conceptual thinking with the ability to translate strategies into creative and compelling design solutions.
You have the ability to shift focus between strategic and visionary work to being hands-on and solving the tasks we have in front of us.
You enjoy interacting, presenting, and workshopping with stakeholders, designers and developers.
You are time-efficient and can handle multiple tasks, prioritise projects and meet deadlines.
You are flexible and willing to direct the development of concepts across strategy, copy and design – inspiring others to evolve big ideas.
Benefits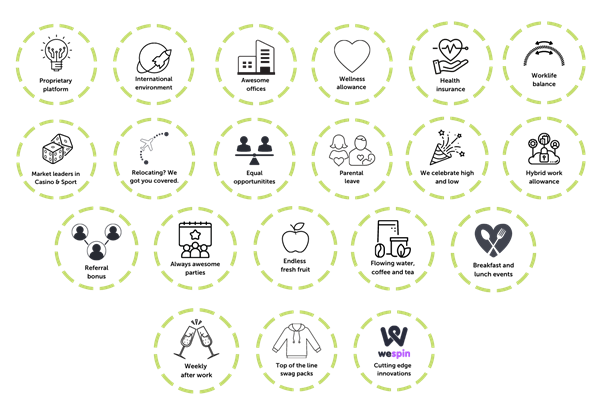 ComeOn Group in short
Founded in 2008, ComeOn Group is a leading global player in the rapidly growing iGaming market. Having launched its first online brand in 2010, ComeOn Group is running a wide range of exciting brands across multiple markets. Operating more than 20 brands on its proprietary platform providing a secure, innovative and entertainment-led player experience across casino and sports betting. ComeOn Group is an international employer within the iGaming industry and has over 500 talented employees across 7 main locations.
So what can you expect from ComeOn as a place of work?
At ComeOn, we have adapted a Hybrid Work model which means that we offer our employees an option to pick their workstation for the day. Want to work from the office a few days a week and some days from home? That's totally fine with us! ComeOn is known for their inviting and vibrant offices that offer creative areas for collaboration and desk set-ups designed for a Hybrid Work model. When you visit one of our offices you will always be welcomed by a friendly face that will take good care of you. It's our curiosity that drives our innovative business forward and we work hard in a #runtogether spirit and we always make sure to top it up by #havingfun! You will not regret picking ComeOn as your next place of work – as you can see below from our award!
Want to know more about us just visit our website www.comeon-group.com or any of our social media channels to take a deep dive into our culture!
The ComeOn Moment
That moment when right before the roulette ball stops, or during when the penalty shoots out in the world cup final, when time slows down, when every heartbeat can be felt, when you think, whisper or scream ComeOn, ComeOn, ComeOn!
You don't have to be a gambler to work at ComeOn Group, but you have to understand the power of having something at stake, with the potential to win or lose. We have all experienced this, if not with money on the table, maybe it was our hearts!
#WeareComeOn
I'm interested, what do I do next?
Waste no time and send your application expressing your interest and why you want to work for us today by sending your CV and cover letter and applying here below.
Applications might take a few weeks to review so please stay cool. We shall get back to you 😉
Are you curious how we roll here at ComeOn! ? Check it out here!
If you want to learn how we act in compliance with the GDPR, you can access our Recruitment Privacy Notice here.