Job Description
As Affiliate manager, you are responsible for assisting with the growth, retention and reactivation of our country specific affiliates, and the growth of country specific traffic to our brands.
You will work closely with the Affiliate Managers in providing support for all affiliates currently active within the ComeOn Connect Affiliates program.
You will communicate regularly with affiliates, via skype, email and phone to optimize traffic to our portfolio of brands whilst ensuring that our profit margins are always at their optimum level. You will also be responsible for the reporting and analyzing of data from this affiliation market.
Responsibilities
Source, evaluate, recruit and approve new affiliate partners (Market focused)

Monitor affiliate practices and ensure compliance
Deal negotiation and drive new traffic to ComeOn Group

Reactivation and Retention of existing affiliates –implementation initiatives that enhance affiliate productivity, create new growth opportunities and increase ROI
Perform ongoing analysis of affiliates, based on affiliate performance and potential to ensure ongoing positive ROI
Answer Affiliate queries and provide consistent support and optimization assistance.
Provide copy for external mailers, banners and text keys where possible
Help execute and participate in industry shows and events
Carry out competitor analysis on an ongoing basic
Create and development top line affiliation reports for the /Affiliate team leader/ Head of Affiliates., Country Managers, Brand Managers and Affiliate Managers to ensure that we are fully aware of all KPI's and our budget vs spend.
Create and deliver weekly reports to 3rd Parties -affiliate networks etc
Create and deliver ad hoc reports to business owners /Affiliate team leader/ Head of Affiliates.
Requirements
Knowledge/skills /experience:
Sound understanding of the iGaming industry
Excellent project management and time management skills
Experience in managing multiple, competing priorities, duties and/or projects
Strong analytical skills
Superior negotiating and influencing skills
Strong relationship management skills
Basic HTML experience desirable
Person specification:
Fluent in English (language skills in Swedish, Finnish, Norwegian, German or Danish would be considered an advantage)
Excellent written communication skills with a flair for the creative
Excellent organisational skills with attention to detail
Metrics driven with exceptional analytical skills
Motivated team player
Self-starter, with a 'can do' attitude
Optimist and loves a challenge
Benefits
ComeOn Group in short
Founded in 2008, ComeOn Group is a leading global player in the rapidly growing iGaming market. Having launched its first online brand in 2010, ComeOn Group is running a wide range of exciting brands across multiple markets. Operating more than 20 brands on its proprietary platform providing a secure, innovative and entertainment-led player experience across casino and sports betting. ComeOn Group is an international employer within the iGaming industry and has over 500 talented employees across 7 main locations.
So what can you expect from ComeOn as a place of work?
At ComeOn, we have adapted a Hybrid Work model which means that we offer our employees an option to pick their workstation for the day. Want to work from the office a few days a week and some days from home? That's totally fine with us! ComeOn is known for their inviting and vibrant offices that offer creative areas for collaboration and desk set-ups designed for a Hybrid Work model. When you visit one of our offices you will always be welcomed by a friendly face that will take good care of you. It's our curiosity that drives our innovative business forward and we work hard in a #runtogether spirit and we always make sure to top it up by #havingfun! You will not regret picking ComeOn as your next place of work.
Want to know more about us just visit our website www.comeon-group.com or any of our social media channels to take a deep dive into our culture!
ComeOn Group winner of 2021 IGA Awards: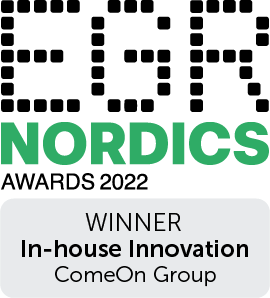 The ComeOn Moment
That moment when right before the roulette ball stops, or during when the penalty shoots out in the world cup final, when time slows down, when every heartbeat can be felt, when you think, whisper or scream ComeOn, ComeOn, ComeOn!
You don't have to be a gambler to work at ComeOn Group, but you have to understand the power of having something at stake, with the potential to win or lose. We have all experienced this, if not with money on the table, maybe it was our hearts!
#WeareComeOn
I'm interested, what do I do next?
Waste no time and complete your application expressing your interest and why you want to work for us today, we like individuality so let your personality come through!
Applications might take a few weeks to review so please stay cool. We shall get back to you 😉
Are you curious how we roll here at ComeOn Group!? Check it out here!
If you want to learn how we act in compliance with the GDPR, you can access our Recruitment Privacy Notice here.