Job Description
This is a key role within the Finland Country CRM team where the Executive is responsible for the day-to-day execution of operational tasks as planned and agreed together with the CRM Manager, according to the brand vision and strategy. You will also be assisting the Brand Manager with creating the monthly CRM campaign plan as well as follow up on campaign results
As a real doer, in this role you will be writing copy, request translations (if required) and creatives, ensuring the content of the market's sites are up-to-date as well as executing and delivering customer communications through all targeted marketing channels (primarily email, SMS, DMs & mobile push).
To follow the brand values, tone of voice and long term strategy in all communication is of essence in this role.
What will you get up to day to day?
Assists the CRM manager with creating the monthly CRM campaign plan as well as follows up on results independently and together with BI-team.
Coordinates campaign briefs and requests within the team and/or to central teams according to agreed timelines.
Creates and publishes engaging copy according to the brand tone of voice. The copy will be used for customer communication (onsite content, emails, banners etc) to encourage new and existing players to engage with the site and take part in promotions.
Update content such as text and resources on the brand site.
Uses internal and third-party provider platforms to create campaign specific pages and promotions. Ensures correct groups/segments/offers are used, that correct sections of the website are updated and items are published/unpublished as per plans.
Manages and executes the brands' communication delivery, accurately and as per given timelines. Responsibilities will include setting up, testing, sending, tracking and reporting on email, SMS and Push campaigns.
Setting up and execution of automated activities (all lifecycle stages)
Assists in the planning of upcoming campaigns.
Establish solid communication channels to central operations to inform them about planned campaigns to ensure synergy.
Requirements
Finnish speaker to native level
Excellent knowledge of English
Marketing mindset and analytical traits
Methodical and structured
Social and loves working in multi-cultural environment
Likes sport, casino, poker or other type of games
Experience in gaming industry is good, but not a must.
Benefits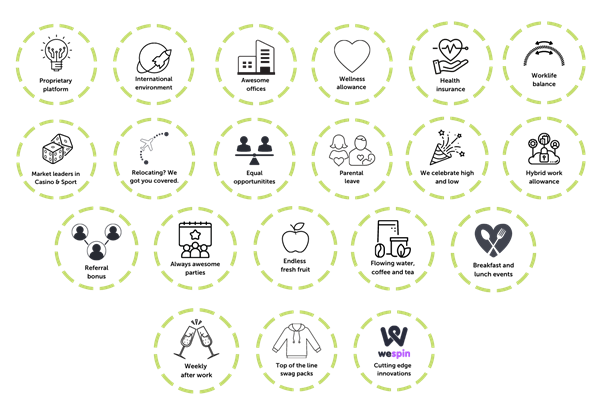 ComeOn Group in short
Founded in 2008, ComeOn Group is a leading global player in the rapidly growing iGaming market. Having launched its first online brand in 2010, ComeOn Group is running a wide range of exciting brands across multiple markets. Operating more than 20 brands on its proprietary platform providing a secure, innovative and entertainment-led player experience across casino and sports betting. ComeOn Group is an international employer within the iGaming industry and has over 500 talented employees across 7 main locations.
So what can you expect from ComeOn as a place of work?
At ComeOn, we have adapted a Hybrid Work model which means that we offer our employees an option to pick their workstation for the day. Want to work from the office a few days a week and some days from home? That's totally fine with us! ComeOn is known for their inviting and vibrant offices that offer creative areas for collaboration and desk set-ups designed for a Hybrid Work model. When you visit one of our offices you will always be welcomed by a friendly face that will take good care of you. It's our curiosity that drives our innovative business forward and we work hard in a #runtogether spirit and we always make sure to top it up by #havingfun! You will not regret picking ComeOn as your next place of work – as you can see below from our award!
Want to know more about us just visit our website www.comeon-group.com or any of our social media channels to take a deep dive into our culture!
The ComeOn Moment
That moment when right before the roulette ball stops, or during when the penalty shoots out in the world cup final, when time slows down, when every heartbeat can be felt, when you think, whisper or scream ComeOn, ComeOn, ComeOn!
You don't have to be a gambler to work at ComeOn Group, but you have to understand the power of having something at stake, with the potential to win or lose. We have all experienced this, if not with money on the table, maybe it was our hearts!
#WeareComeOn
I'm interested, what do I do next?
Waste no time and send your application expressing your interest and why you want to work for us today by sending your CV and cover letter and applying here below.
Applications might take a few weeks to review so please stay cool. We shall get back to you 😉
Are you curious how we roll here at ComeOn! ? Check it out here!
If you want to learn how we act in compliance with the GDPR, you can access our Recruitment Privacy Notice here.