Job Description
Senior Marketing Project Manager will drive active user growth by researching, storyboarding, localizing, and generally project-managing the creation of digital marketing campaigns and market propositions. This role requires working both highly autonomously and as part of the global distributed marketing team.
Responsibilities:
Partner with local, brand, and central marketing teams to develop and launch creative tests across multiple geographies, languages, and ad channels to drive user growth.
Help identify, analyse, and develop growth hypotheses; assist in running and testing growth experiments based on refined hypotheses.
Actively communicate project status, risks, bottlenecks, and deliverables, to key stakeholders in an effective and efficient manner.
Meet ambitious growth KPIs.
Coordinate Marketing plans between Brand and County managers to Marketing teams
Work closely with the Product team and set a campaign roadmap which will be communicated to Marketing
Requirements
1-3 years of relevant marketing experience, preferably digital marketing experience in Account Management, Project Management, or sales in preferably iGaming sector
Very high excel, word skills, high presentation skills.
Execution oriented mindset – with the humility, drive, and scrappiness to get it done.
nice to have:
Experience in iGaming sector
Experience in Performance Marketing, i.e. understanding the KPIs
Experience in a big organization (cooperate )
Benefits
ComeOn Group in short
Founded in 2008, ComeOn Group is a leading global player in the rapidly growing iGaming market. Having launched its first online brand in 2010, ComeOn Group is running a wide range of exciting brands across multiple markets. Operating more than 20 brands on its proprietary platform providing a secure, innovative and entertainment-led player experience across casino and sports betting. ComeOn Group is an international employer within the iGaming industry and has over 500 talented employees across 7 main locations.
So what can you expect from ComeOn as a place of work?
At ComeOn, we have adapted a Hybrid Work model which means that we offer our employees an option to pick their workstation for the day. Want to work from the office a few days a week and some days from home? That's totally fine with us! ComeOn is known for their inviting and vibrant offices that offer creative areas for collaboration and desk set-ups designed for a Hybrid Work model. When you visit one of our offices you will always be welcomed by a friendly face that will take good care of you. It's our curiosity that drives our innovative business forward and we work hard in a #runtogether spirit and we always make sure to top it up by #havingfun! You will not regret picking ComeOn as your next place of work – as you can see below from our award!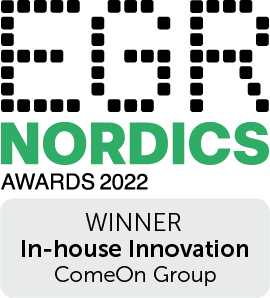 Want to know more about us just visit our website www.comeon-group.com or any of our social media channels to take a deep dive into our culture!
The ComeOn Moment
That moment when right before the roulette ball stops, or during when the penalty shoots out in the world cup final, when time slows down, when every heartbeat can be felt, when you think, whisper or scream ComeOn, ComeOn, ComeOn!
You don't have to be a gambler to work at ComeOn Group, but you have to understand the power of having something at stake, with the potential to win or lose. We have all experienced this, if not with money on the table, maybe it was our hearts!
#WeareComeOn