Job Description
We are happy to see that we have managed to catch your attention – because that's exactly what we want to do, catch great candidates' interest so that they apply for exciting jobs at ComeOn Group.
Join us as our next Swedish speaking Customer Experience Team Leader
We are looking for a visionary leader with a strategic business mindset to join us as our Swedish speaking Customer Experience Team Leader.
Are you a self-starter constantly looking for new ways and ideas how to improve Customer Experience? Are you analytical, have an eye for detail & great communication skills?
If you're also a team player, intuitive and resourceful, ready to come up with new ways of ensuring excellent customer service, we are looking for you!
Join us as our new Swedish speaking Customer Experience Team Leader and take our Customer Experience to the next level by leading and supporting a team of our talented customer experience agents!
Does this sound like you? If so, read on!
Recruit new agents with the aim of establishing a proactive team functioning with high standards
Forecast future workload and propose staffing plans to Head of Customer Experience & Customer Experience Operations Managers
Coach and develop your team on their responsibilities, to ensure continuous improvement of group & individual results. Provide consistent and regular development feedback
Set up goals and objectives for your team and follow these up in monthly 121's
Ensure that team KPIs are met
Report and analyse team performance on daily, weekly and monthly basis
Ensure Compliance and Responsible Gaming procedures are adhered to by everyone
Plan and organise motivational activities
Ensure team members understand how to meet performance expectations and provide ongoing support
Communicate with relevant teams when Payments/Transaction issues arise
Use your excellent communication and interpersonal skills to motivate others
Work in a proactive manner
Requirements
You're a born leader with excellent communication and interpersonal skills and a strong ability to motivate others! You come with extensive knowledge about Customer Service (via both email and live chat) as well as sports betting, casino and the iGaming industry overall. Being proactive and having a positive attitude is what will take this role to another level. And in addition to that, you bring with you a strong background working in the customer experience field with a strong customer service ethic and great attention to detail. You're not afraid to share your ideas and suggestions and you are flexible to work on a shift basis.
Benefits
At ComeOn Group we put a lot of trust in every individual, we know that if we get the tools and space to do what we do best, we will be both happy and deliver great things. This is why we have some of the greatest minds in the industry working here! We focus on team-work, innovation, creativity and having fun, that's why our values tell us how we should get things done!
Additionally we've got:
Wellness Allowance
Private healthcare
Bonus scheme
Team Events
Hybrid Office Set up
These benefits are subject to change & may be limited due to Covid-19.
So what can you expect from ComeOn as a place of work?
At ComeOn, we have adapted a Hybrid Work model which means that we offer our employees an option to pick their workstation for the day. Want to work from the office a few days a week and some days from home? That's totally fine with us! ComeOn is known for their inviting and vibrant offices that offer creative areas for collaboration and desk set-ups designed for a Hybrid Work model. When you visit one of our offices you will always be welcomed by a friendly face that will take good care of you. It's our curiosity that drives our innovative business forward and we work hard in a #runtogether spirit and we always make sure to top it up by #havingfun! You will not regret picking ComeOn as your next place of work.
ComeOn Group in short
Founded in 2008, ComeOn Group is a leading global player in the rapidly growing iGaming market. Having launched its first online brand in 2010, ComeOn Group is running a wide range of exciting brands across multiple markets. Operating more than 20 brands on its proprietary platform providing a secure, innovative and entertainment-led player experience across casino and sports betting. ComeOn Group is an international employer within the iGaming industry and has over 500 talented employees across 7 main locations.
Want to know more about us just visit our website www.comeon-group.com or any of our social media channels to take a deep dive into our culture!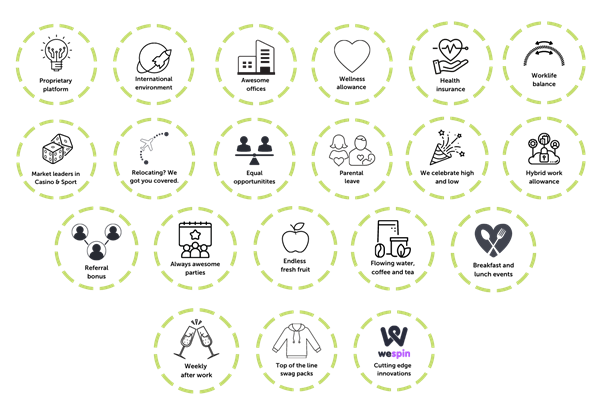 The ComeOn Moment
That moment when right before the roulette ball stops, or during when the penalty shoots out in the world cup final, when time slows down, when every heartbeat can be felt, when you think, whisper or scream ComeOn, ComeOn, ComeOn!
You don't have to be a gambler to work at ComeOn Group, but you have to understand the power of having something at stake, with the potential to win or lose. We have all experienced this, if not with money on the table, maybe it was our hearts!
#WeareComeOn