Job Description
We are looking for an experienced Product Owner to join our team and work with our internal data products. This is a great opportunity to join an international gaming company with a Data as a Service vision, and a lot of focus in the data domain.
As a team, we always strive to be better at what we do. We believe in collaboration, a non- hierarchical approach, own initiatives, and last but not least in having fun at work!
The Role
This is a role suited for someone who is never comfortable with the status quo. You have a passion to constantly improve the lives of our internal stakeholders such as business units, data analysts and data scientists.
As a Data Product Owner you will have the ownership of delivering all new types of features for our data products, ranging from new data marts on top of the data warehouse, to new data integrations with third parties, to real time data streaming. You will deliver these new features together with stakeholders and your team of data warehouse developers and data engineers.
Key responsibilities
Work collaboratively with a delivery team of Data Engineers, Analytics and Data Science specialists to design and deliver products that provide the insights our stakeholders require to make strategic and tactical business decisions
Create and maintain your team's backlog, prioritise epics and user stories between each other.
Provide ongoing support to stakeholders and end users of our data products
Identify and monitor the measures of the data products and the features.
Manage the product life cycle (design, deliver, launch, support, etc.)
Help building and maintaining a vision and roadmap for the data area.
Be on top of the game to know what's going on in the rest of the data world.
Requirements
Excellent command of English.
Significant experience in the data domain whether as a PO, business analyst or BI team lead. Experience within the iGaming industry will be considered an asset, although not a must.
Proven ability to prioritise and deal with problems systematically and provide clear communications regarding issues,, resolution times and solutions.
Comfortable working in a fast-paced environment whilst interacting with a variety of different disciplines.
Able to work independently and manage multiple product developments in parallel.
PO Certifications and experience with Agile, will be considered a plus.
Familiarity with Data engineering concepts (ETL, DW Infrastructure etc.), Data visualisation tools and Data science concepts, will be considered an asset.
Benefits
Competitive Salary
Company Bonuses
Being in an international team working with the UK, Sweden and Malta
Flexible vacation periods and +5 bonus vacation days to your legal annual leave rights (including the first year)
Budget for international conferences
Good hardware options to work with (2 external monitors, standing desk option, etc.)
Dealing with new technologies.
Flexible and relaxed working environment.
Kitchen and open fridge for breakfast, cookies, fruits, mostly organic food.
Central location access to the subway, main bus routes and highway.
Good coffee 🙂
These benefits are subject to change & may be limited due to Covid-19.
ComeOn Group in short
Founded in 2008, ComeOn Group is a leading global player in the rapidly growing iGaming market. Having launched its first online brand in 2010, ComeOn Group is running a wide range of exciting brands across multiple markets. Operating more than 20 brands on its proprietary platform providing a secure, innovative and entertainment-led player experience across casino and sports betting. ComeOn Group is an international employer within the iGaming industry and has over 500 talented employees across 7 main locations.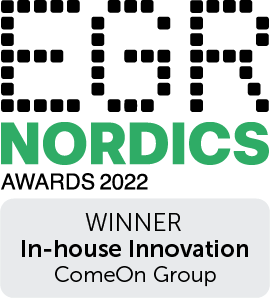 Want to know more about us just visit our website www.comeon-group.com or any of our social media channels to take a deep dive into our culture!
The ComeOn Moment
That moment when right before the roulette ball stops, or during when the penalty shoots out in the world cup final, when time slows down, when every heartbeat can be felt, when you think, whisper or scream ComeOn, ComeOn, ComeOn!
You don't have to be a gambler to work at ComeOn Group, but you have to understand the power of having something at stake, with the potential to win or lose. We have all experienced this, if not with money on the table, maybe it was our hearts!
#WeareComeOn
I'm interested, what do I do next?
Waste no time and complete your application expressing your interest and why you want to work for us today, we like individuality so let your personality come through!
Applications might take a few weeks to review so please stay cool. We shall get back to you 😉
Are you curious how we roll!? Check it out here!
If you want to learn how we act in compliance with the GDPR, you can access our Recruitment Privacy Notice here.