Job Description
Reporting into the VIP Operations Manager, the role will form part of a small Norwegian VIP Team as well as the wider Account Management Team. The aim is to ensure the best possible experience for High Value customers amongst our Norwegian brands. The position will suit an outgoing individual who will always put the customer first and proactively look for retention opportunities, all while ensuring we are going above and beyond from a Safer Gambling and regulatory perspective.
This key position will work with all departments where customer touchpoints exist, ensuring full compliance with every process. With support from the wider Account Management function, retention is the key KPI here, utilizing both existing process from the business, as well as scope to introduce new, creative methods to retain this customer segment.
What will you get up to day to day?
Build exceptional relationships with our high value customer base
Become an expert in resolving problems efficiently, utilising CX and other departments
Feed in to the future VIP Strategy, becoming the voice of the customers and striving for a player led experience
Proactively contact customers by phone, email and chat to remove pain points in their activity, highlight safer gambling tools, fulfil AML obligations and gather feedback.
Provide regular reporting on customer activity whether on an individual, brand or market level.
Monitor key customer activity, identifying opportunities to improve their experience with the group.
Plan and execute exciting campaigns to ensure competitiveness and a fair level of reward
Utilise the Gift and Events Budget to reward players
Requirements
Experience of working in a high-profile customer focused environment
Strong relationship building skills, and the ability to build trust
Commitment to providing world class service to valuable customers.
Fluent in both Norwegian and English
Experience of working within online gaming, especially regulated markets
Clear understanding of Safer Gambling, AML and Compliance policies in relation to VIP Activity
Excellent communication skills with the ability to challenge product and process
Literate in Microsoft Office/Google equivalent
Benefits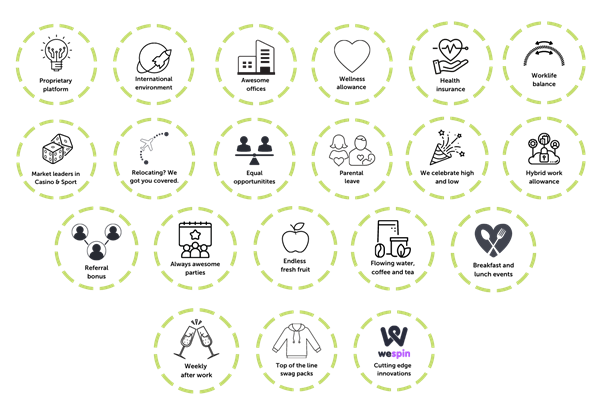 ComeOn Group in short
Founded in 2008, ComeOn Group is a leading global player in the rapidly growing iGaming market. Having launched its first online brand in 2010, ComeOn Group is running a wide range of exciting brands across multiple markets. Operating more than 20 brands on its proprietary platform providing a secure, innovative and entertainment-led player experience across casino and sports betting. ComeOn Group is an international employer within the iGaming industry and has over 500 talented employees across 7 main locations.
So what can you expect from ComeOn as a place of work?
At ComeOn, we have adapted a Hybrid Work model which means that we offer our employees an option to pick their workstation for the day. Want to work from the office a few days a week and some days from home? That's totally fine with us! ComeOn is known for their inviting and vibrant offices that offer creative areas for collaboration and desk set-ups designed for a Hybrid Work model. When you visit one of our offices you will always be welcomed by a friendly face that will take good care of you. It's our curiosity that drives our innovative business forward and we work hard in a #runtogether spirit and we always make sure to top it up by #havingfun! You will not regret picking ComeOn as your next place of work – as you can see below from our award!
Want to know more about us just visit our website www.comeon-group.com or any of our social media channels to take a deep dive into our culture!
The ComeOn Moment
That moment when right before the roulette ball stops, or during when the penalty shoots out in the world cup final, when time slows down, when every heartbeat can be felt, when you think, whisper or scream ComeOn, ComeOn, ComeOn!
You don't have to be a gambler to work at ComeOn Group, but you have to understand the power of having something at stake, with the potential to win or lose. We have all experienced this, if not with money on the table, maybe it was our hearts!
#WeareComeOn
I'm interested, what do I do next?
Waste no time and send your application expressing your interest and why you want to work for us today by sending your CV and cover letter and applying here below.
Applications might take a few weeks to review so please stay cool. We shall get back to you 😉
Are you curious how we roll here at ComeOn! ? Check it out here!
If you want to learn how we act in compliance with the GDPR, you can access our Recruitment Privacy Notice here.